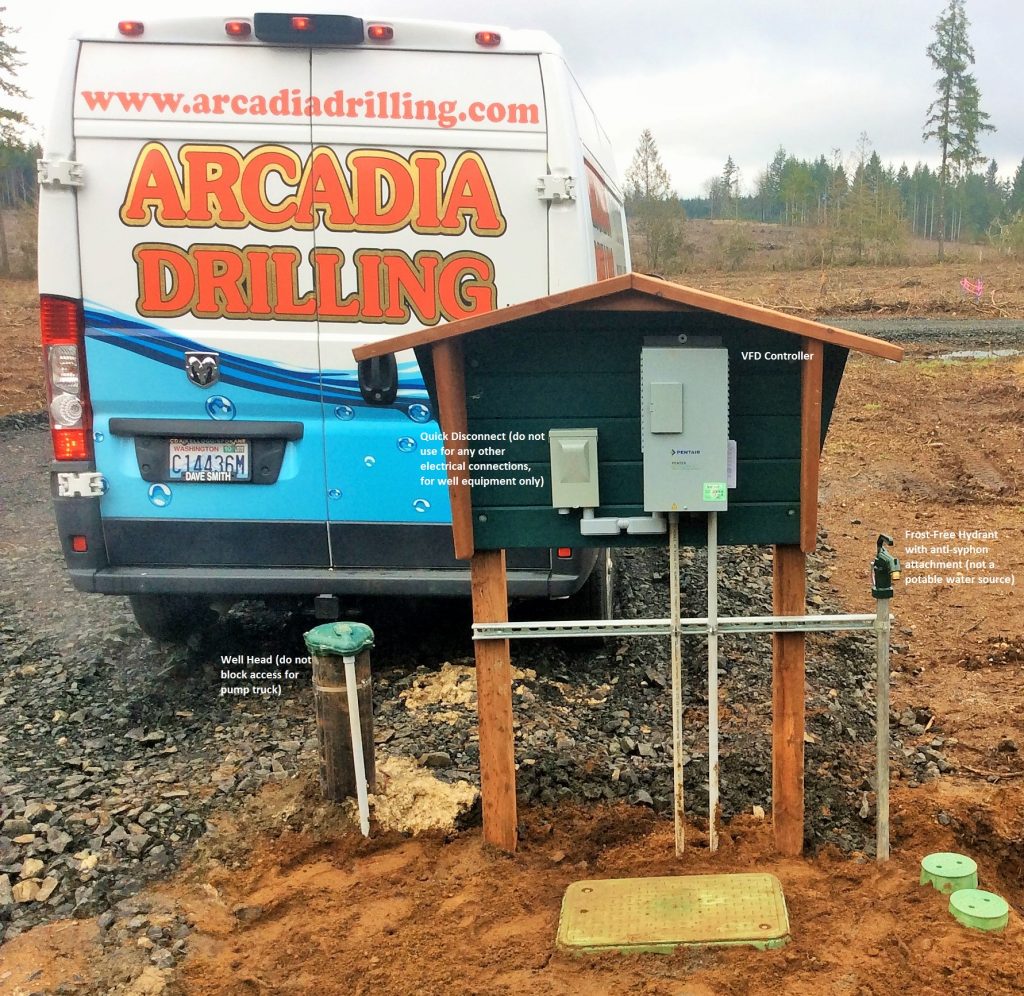 Well Pumps and Well Tanks
Your well tank and pump are the most important parts of your well water system. We'll make sure you have the right components to fit your unique needs
Well Water System Pump and Tank Set-Up Options
Standard Pressure Tank Set-Up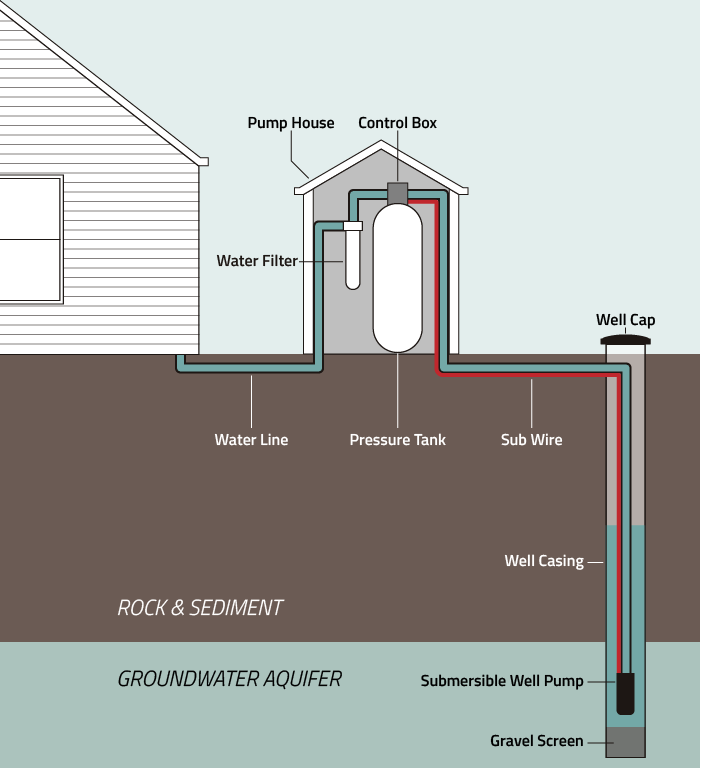 Standard Pressure Tank Well Water System
Pressure tanks typically would be located inside freeze protected pump house, garage or designed mechanical room.
A pressure switch works in conjunction with the well pump which tells the pump when to kick off and on to replenish the tank, a 40/60 switch is common on an 80 gallon tank. A common misconception is that you have lots of stored water in a pressure tank. Because the tank is more air than water, there is only about 23 gallons of stored water in an 80 gallon bladder pressure tank.
VFD (Variable Frequency Drive) Set-Up (actual install pictured above)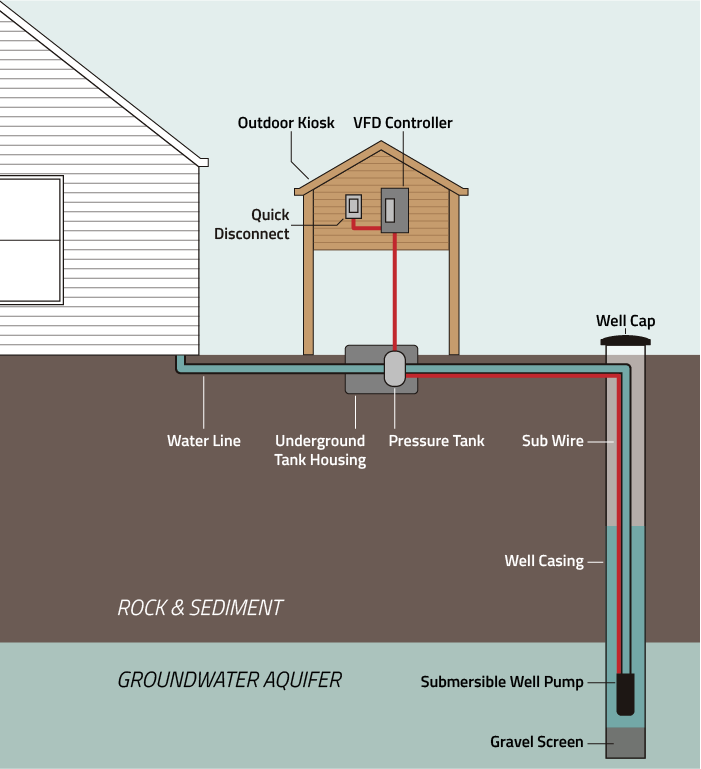 Complete Onsite Water System *designed by Arcadia Drilling
This is a custom designed system that includes the pressure system controls near the well head on our custom made backboard. It includes the backboard, VFD pump controller, electrical disconnect, pressure tank, service valve for waterline connection, frost free hydrant and utility boxes to protect the tank and components in the ground. This system is very popular with new construction projects as the home owner does not have to build a structure to host the equipment or worry about freeze protecting it.
You'll have constant water pressure. With a VFD controller, your submersible well pump will speed up and slow down to match your water usage unlike a traditional pressure tank switch application where it draws from the tank, this allows for a much smaller pressure tank.
The VFD also comes with many features that protects your pump and over pumping your well. Such faults include: excessive run time, low amps, ground fault or dry run and many more.
---
Types of Well Pumps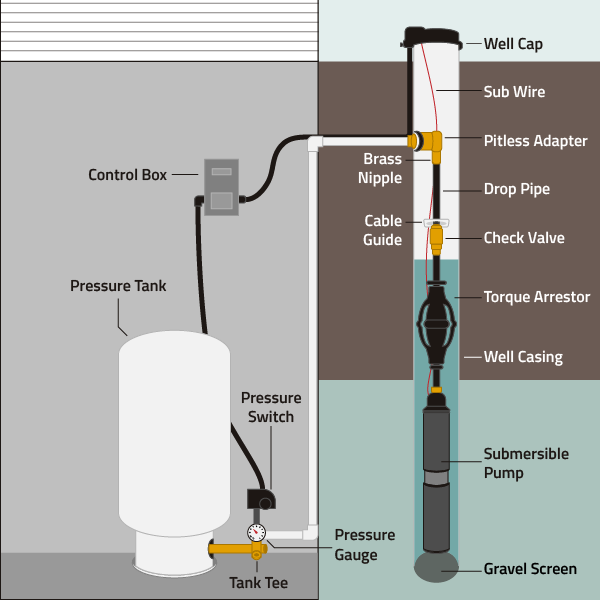 Submersible Well Pump (Recommended)
Submersible pumps live underground in the well casing under the water line in your well. The pump is connected to a single pipe that comes up from the inside of the well and is connected to a pressure tank inside your home.
Recommended For
Other Considerations
Submersible well pumps are more energy efficient than jet pumps.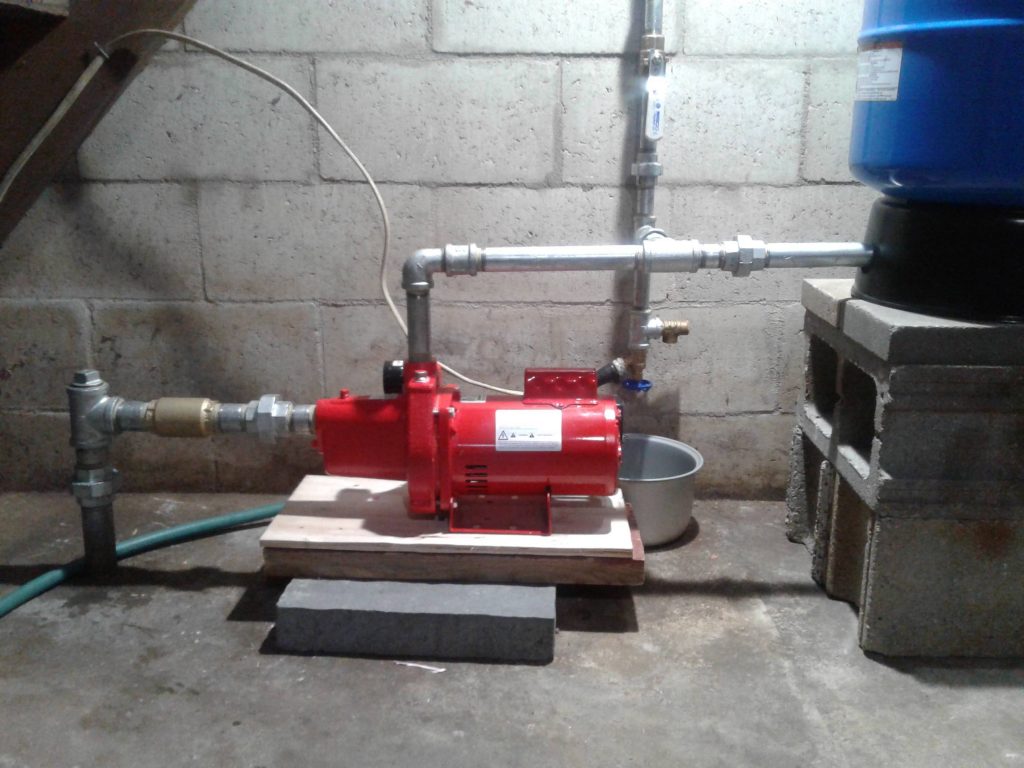 Jet and Booster Pump
Jet Pumps live above ground and draw water out of one pipe and push it through another. We usually only install jet pumps on low-production applications from pumping water from a storage tank, or as a booster pump to move water long distances
Recommended For
Wells 25′ to 110′ deep
Low production applications from storage reservoir tank to service
Other Considerations
Jet pumps are not quite as efficient as submersible pumps because they rely on atmospheric pressure to push water to the surface.
Jet Pumps may include a tailpipe to ensure the well is never pumped dry.
Jet Pumps require a foot valve to prime the pump
---
Well Water System Component Definitions
Submersible Well Pump

Submersible pumps live deep underground in the well casing under the water line in your well. The pump is connected to a single pipe that comes up from the inside of the well and is connected to a pressure tank inside your home.

PVC Drop Pipe

Your drop pipe is the pipe that goes down into your well to draw water up

Sounding Tube

A sounding tube is a long piece of pipe that goes down your well to measure the water level by sending a probe down to determine water level in the well

Sub Wire

Your well sub wire is the electrical line that runs down your well to connect your submersible well pump to the control box and power source above ground

Torque Arrestor

A torque arrestor sits down in your well above your submersible well pump and acts as cushion or shock absorber so your well water system can sustain the heavy torque forces from the starting and stopping of the pump

Check Valve

A check valve is installed on your drop pipe above the torque arrestor and prevents backflow, water hammer, up thrust, and backspin. Your check valve will also help maintain water pressure in your drop pipe by keeping the water only flowing up

Brass Nipple

A brass nipple is a small fitting that connects the pitless adapter to your drop pipe

Pitless Adapter

A pitless adapter is air tight fitting that reaches through your well casing to attach your drop pipe to the water line running to your pressure system. This adapter protects your water line from frost and external contaminants as well as providing easier access to your well and the components inside

Well Cap

This covers your well head that sticks out of the ground and keeps it sealed up

Control Box

Your well control box is connected by the wire that comes from the submersible well pump and cycles your pressure switch on and off

Pressure Switch

A well pressure switch is attached to your pressure tank and senses the pressure inside. When the pressure in your tank drops below a certain psi, the pressure switch will tell the submersible pump, by way of your control box, to send more water up into the tank. When the pressure in your tank reaches its' max psi, the pressure switch will relay to your submersible pump, through your control box, to stop pumping water

Tank Tee

The tank tee is a multi-port metal fitting attached to your pressure tank that connects to your water line and your pressure gauge

Pressure Gauge

The pressure gauge provides you a readout of the pressure in your tank

Pressure Tank

Your submersible well pump will pump water from your well into the pressure tank, as the tank fills with water, pressure inside the tank will build–allowing multiple faucets to draw water from your well without losing water pressure.

VFD

Variable frequency drives (VFDs) work in tandem with submersible well pumps to gradually ramp power up and down depending on water usage. This extends the life of your pump, makes your well water system more efficient, and ensures your system is always optimally pressurized.

Hydrant

A hydrant is an adapter that sits above the surface that will allow you access to unfiltered, non-potable water outside.

Complete Onsite Water system or outdoor Kiosk

If you can't house your pressure tank, control box inside your home or other pre-existing structure, we can build you an outdoor kiosk to mount and house your hardware (this is called out Complete Onsite Water System)
---
What Not to Do – Well Pumps And Tanks