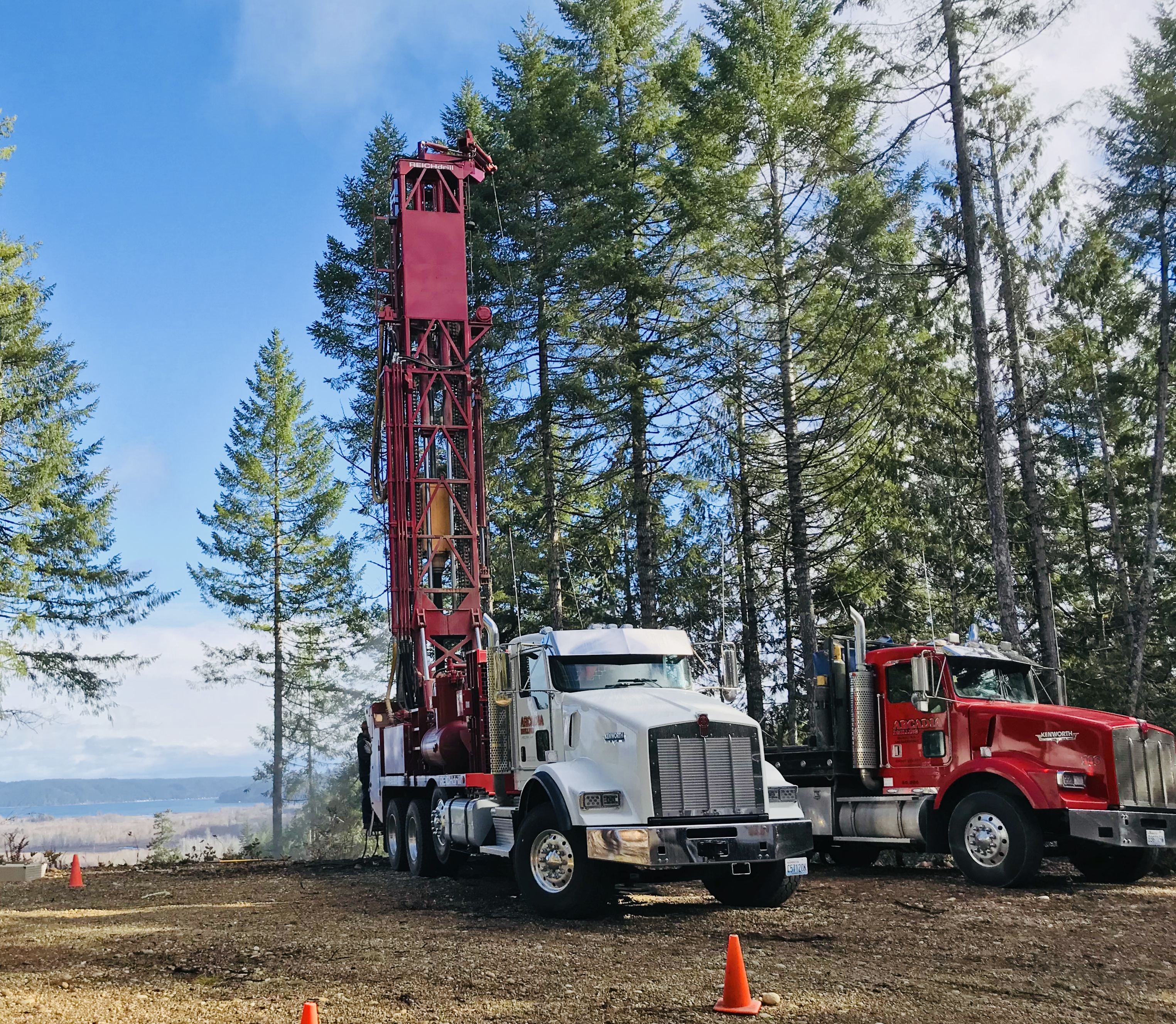 Water Well Drilling
Arcadia Drilling Inc. has been an industry leader in new well construction for decades. Our outstanding devotion to state of the art equipment and qualified personnel allow us to provide what we believe to be the best service possible for your water well project.
We have a variety of drilling equipment to be able to respond to a variety of drilling projects. A state-of-the-art air rotary drill rig, and two cable tool drilling rigs. With this variety, we are able to provide the appropriate equipment for each project, based on site conditions, geological formations, and your needs as the customer.
The safety of our crew is of paramount concern for us, as well as any visitors to the drilling location. Our staff will assist you in any recommendations for increasing the safety of the construction site. Please be aware that all efforts made in this regard are appreciated, and necessary for Arcadia Drilling and their customers to have a successful, safe project.
Our typical Air Rotary drilling sites need to be prepared for the drill rig and service truck to park side by side at the well location, with the service truck on the passenger side of the drill rig. They are both 8' X 40' which requires a 20' wide pad with a 12 foot wide road to access the location. The elevation must not exceed 12" in the front to back, and 2' from side to side. We understand every site is not made equal and will be happy to visit each site and work directly with your contractor to see that these minimum standards are achievable.
The ability of Arcadia Drilling to succeed in meeting or exceeding our customers desired schedule, will depend greatly on access conditions and weather. Good communication is vital for this to be accomplished.
Please feel free to discuss your particular site with us, depending on the site, there may be little site work needed in order for us to do what we need to. Let's look at it and see.
Important Site Considerations:
Site must be level. No more than 20" elevation difference from front to back and not more than 16" elevation difference from side to side.
Drill pad must support 60,000 lb. equipment in all weather
Access must support 60,000 lb. equipment in all weather and is a minimum of 12' wide with a vertical clearance of 15'.
No overhead wires or tree limbs below 15' within the drill pad or access area.
Well pad is located completely within the property boundaries and the well site has been approved by the local health department or meets all state and local set backs for water wells.
Drainage of drill and development water (up to 5,000 gallons) must be diverted away from streams, rivers, wetlands or other protected areas.